"This is a great product. Crunchy, thick, savory and bacony." - Ingrid Long
Regular price
Sale price
$7.24
Unit price
per
Sale
Sold out
Big Bacon Flavor and Crunch!
Join the movement by preparing delicious plant-based meals with All Y'alls Foods Big Crunchy Bacony Bits. The mouth-watering bacon flavor goes with all your favorite dishes, is packed full of protein, made with non-GMO soybeans and is gluten-free!
Made entirely from plants with a flavor & crunch that could only come from Texas!
22g of protein per bag
Gluten-free
Made from non-GMO soybeans
2.69oz resealable container
A portion of each sale supports the Rowdy Girl Sanctuary  - a farm animal

sanctuary

 in Texas.
Share
View full details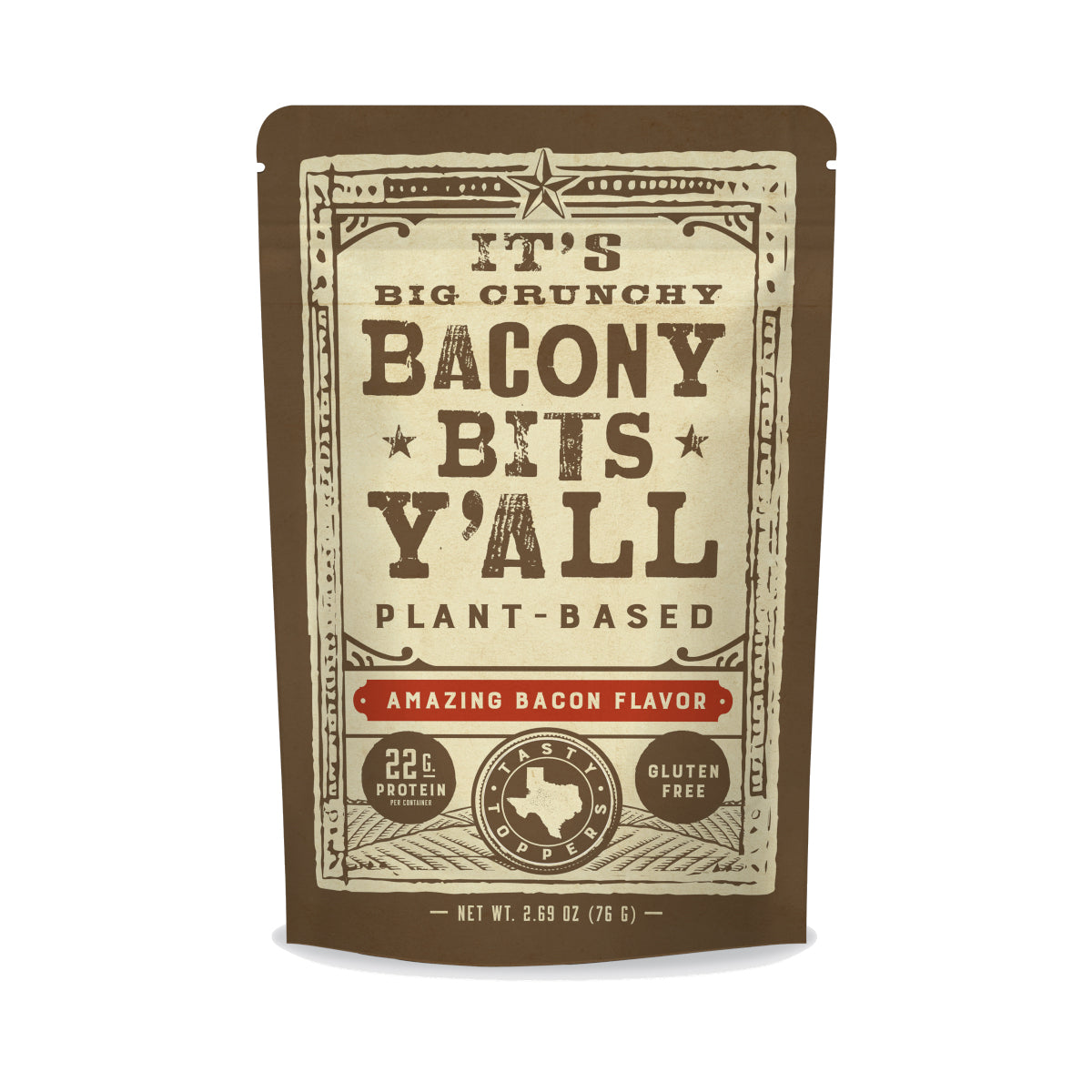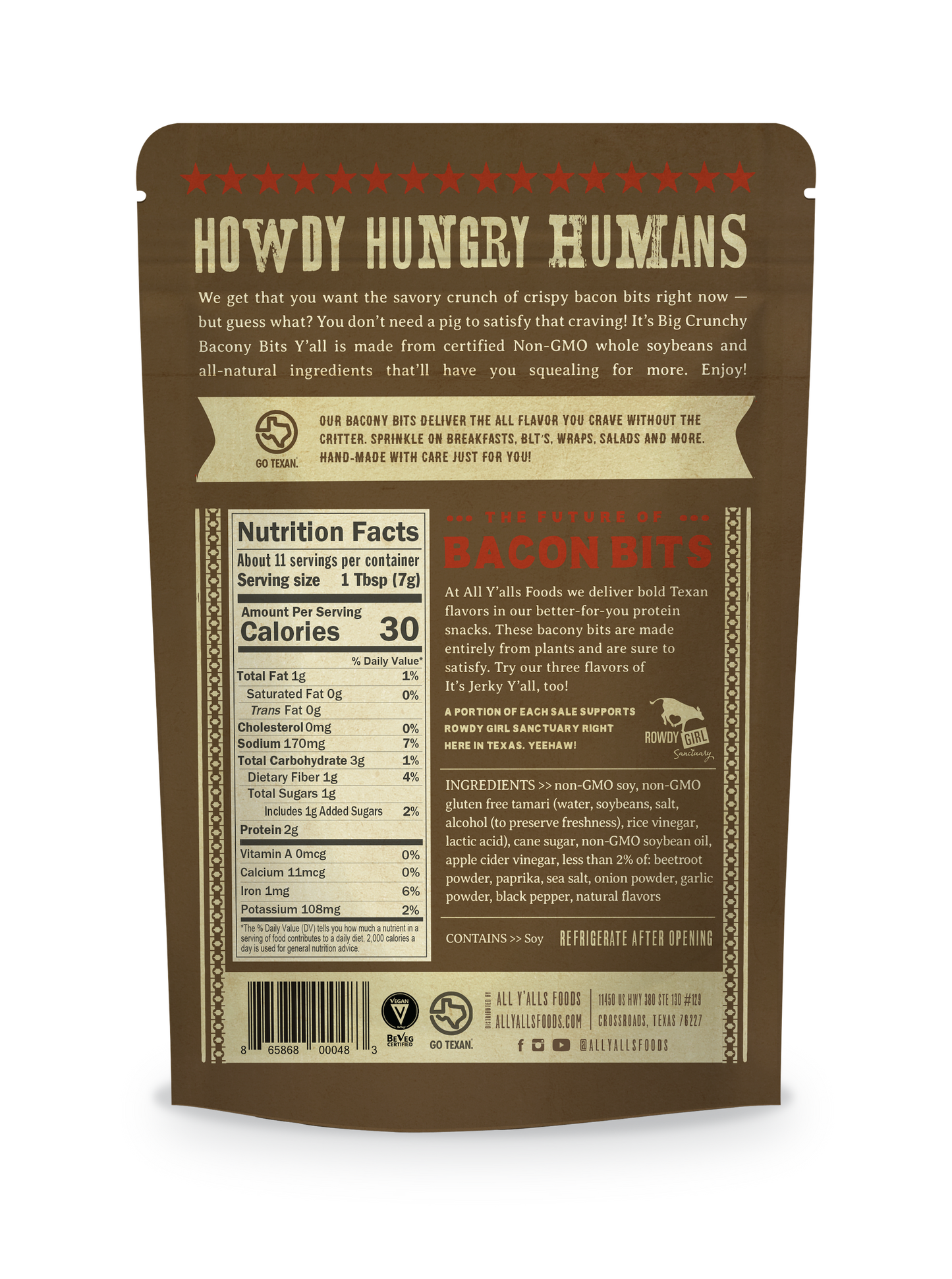 Vegan Bacony Bits FAQs
What are Vegan Bacon Bits?

Plant-based bacon made entirely from plants with a flavor, size and crunch that could only come from Texas! They mimic the crunchy texture and flavor of traditional meat-based bacon bits.

Straight from the bag, our vegan bacon delivers on big bacon flavor and crunch. Not only are the bacony bits a kind, vegan snack, they also make a delicious addition to your favorite recipes, such as pizza, meatloaf, mac and cheese, meatballs, burgers, and hotdogs. Include them in your sandwiches and wraps – especially avocado toast, grilled cheese, and BLTs.

Vegan beef jerky offers the same benefits plus it often has higher nutritional value and takes 1/3th the resources to produce compared to its animal counterpart. 
Are Vegan Bacon Bits Healthy?

According to the CDC, 38% of American adults have high cholesterol, putting them at risk for heart disease and strokes. Bacon bits are really high in cholesterol. Choosing plant-based alternatives, even some of the time, can help lower these risks.  

Our plant-based bacon bits have no cholesterol or saturated fats, and is high in protein, making it a healthy product that also tastes great.
What are Vegan Bacon Bits Made From?

The foundation for almost all plant-based bacon products is soy. It may be soybeans, tofu, or tempeh, but you'll find a good number of brands use this as their base.

Why? Soy is notorious for being able to imitate both the texture and taste of meat. On its own it's relatively flavorless, but it soaks up and holds onto whatever you season it with.

Soy has tons of high-quality protein, better than double than meat. On top of that, it is low in fat and calories. If you choose a soy bacon product, make sure that you look for one likeAll Y'alls, made using whole Non-GMO soybeans.  
FAQ's
Are these soy free?

These delicious vegan bacon bits contain soy in addition to other ingredients. They are a perfect topping for salads and soups.
How long do these last after opening?

How they are stored will impact their freshness and help them stay crispy. We suggest resealing the bag well after each use and keeping them in a cool dark place or in the fridge.
is there oil in this product?

Yes. Soybeans naturally contain oil. We also add a little non-GMO soybean oil to the bacony bits as well before baking.
Just wanted to tell you how happy I am with the product! I shared with my roommate and the jerky is SO GOOD. I had to stop myself from eating everything in one go-round! THANK YOU for making a delicious plant-based product! Also very happy to be able to support a local business.
Freshness Guaranteed

Being plant based, our product stays fresh when sealed off from the air.

Fast & Easy Shipping

You'll get your jerky in 2-3 days, and we're here to help out if anything goes wrong!

Better for your body, better for the earth

Please recycle the package when you're done

Your Purchase Gives Back

A portion of every bag sold goes to support Rowdy Girl Sanctuary.