"5.0 out of 5 stars - Hands down, the best vegan jerky I have had!" - Jessica
Regular price
Sale price
$7.24
Unit price
per
Sale
Sold out
Inspired by the Gulf Coast of Texas
Salty, savory flavors as easy and breezy as a Texas beach day.
2.69 oz resealable container.
Share
View full details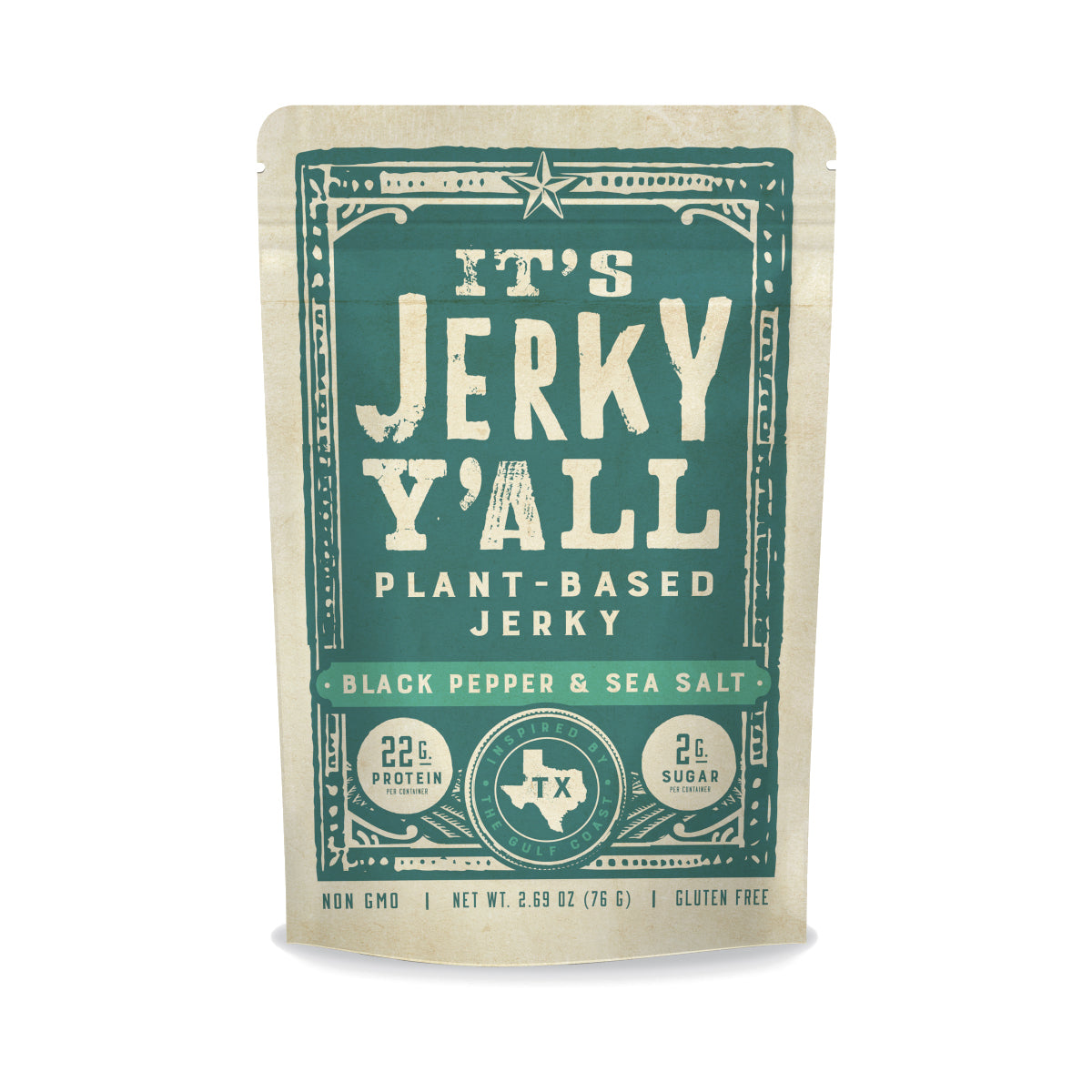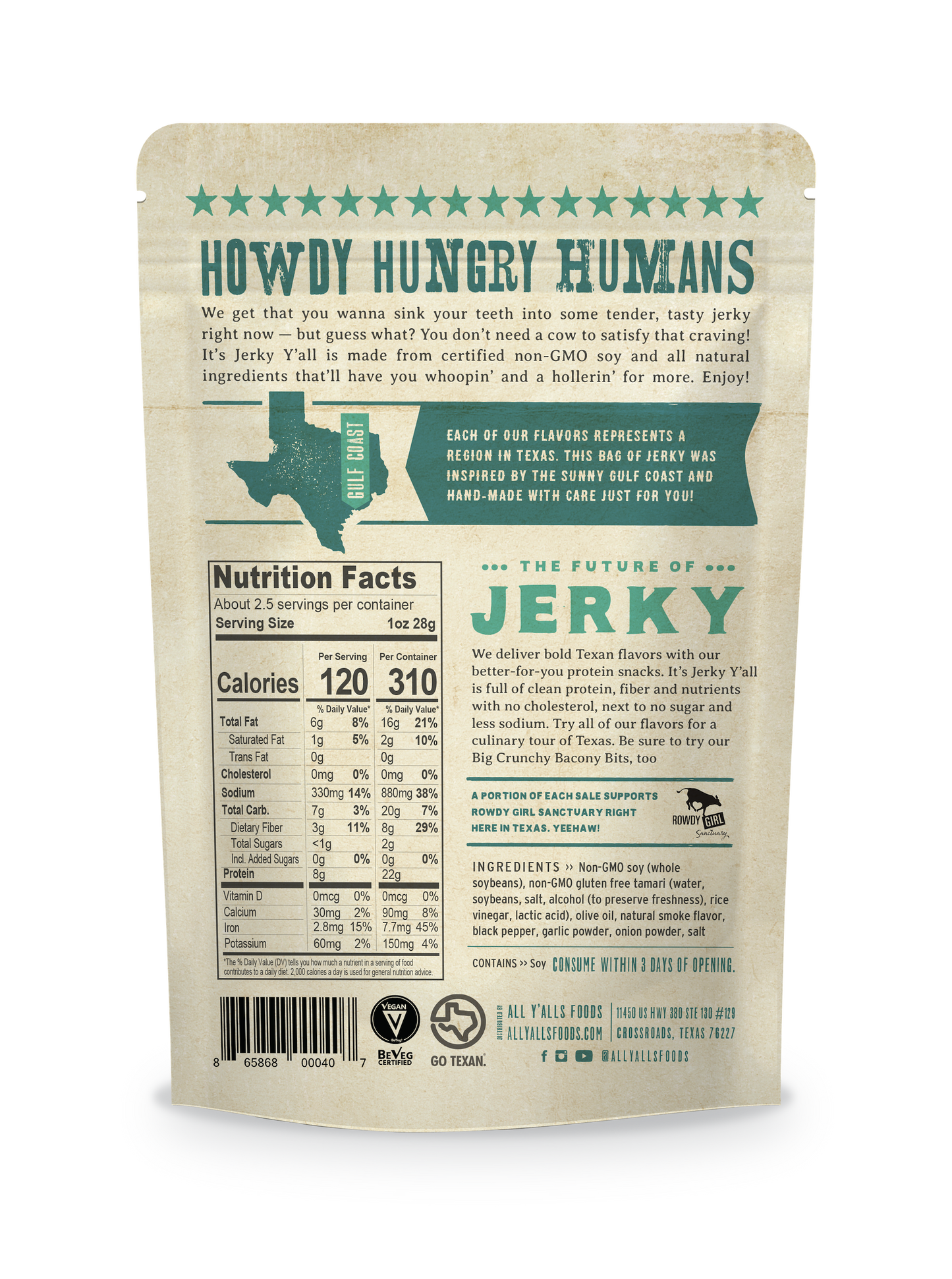 Vegan Jerky FAQs
What is Vegan Beef Jerky?

Our plant-based jerky mimics the chewy texture and bold flavors that you'd expect from a meat-based jerky.

It makes an awesome on-the-go snack for road-trips, work, hiking/biking, well, you catch our drift – basically anywhere. You don't need to refrigerate it, and it can keep for months unopened without spoiling.

Vegan beef jerky offers the same benefits plus it often has higher nutritional value and takes 1/13th the resources to produce compared to its animal counterpart. 
Is Vegan Jerky Healthy?

According to the CDC, 38% of American adults have high cholesterol, putting them at risk for heart disease and strokes. Meat-based jerky is really high in cholesterol. Choosing plant-based jerky alternatives, even some of the time, can help lower these risks.  

Our plant-based jerky has no cholesterol or saturated fats, and is high in protein, making it a healthy product that also tastes great.
What is Vegan Jerky Made From?

Our plant-based jerky uses certified whole non-GMO soybeans as the base for our jerky, which effectively mimics the texture of jerky and enables us to create a variety of delicious flavors. Soy is incredibly high in iron, protein, calcium, and magnesium (much more than beef), plus it has none of the cholesterol or saturated fats and is not a class one or two carcinogen! 

Our plant-based beef jerky is flavored with natural ingredients such as tamari, apple cider vinegar, garlic powder, ginger, chili powder, prickly pear juice, or natural smoke to help create the meaty, full-bodied taste profile using natural, healthy and nutritious ingredients.

You don't have to be vegan to enjoy vegan jerky. It's a delicious and nutritious snack option for meat-eaters, pescatarians, flexitarians, and all the other 'arians' too! With flavors like black pepper and sea salt, prickly pear teriyaki, and prickly pearchipotle, it's not hard to find a vegan jerky to satisfy your salivating palate.
Just wanted to tell you how happy I am with the product! I shared with my roommate and the jerky is SO GOOD. I had to stop myself from eating everything in one go-round! THANK YOU for making a delicious plant-based product! Also very happy to be able to support a local business.
Freshness Guaranteed

Our plant-based product stays fresh when sealed off from the air.

Fast & Easy Shipping

Get your jerky in 2-3 days, and we're here to help out if anything goes wrong!

Better for your body, better for the earth

A healthy alternative to traditional proteins.

Your Purchase Gives Back

A portion of every bag sold goes to support Rowdy Girl Sanctuary.